About School of Physiotherapy
Established in 2021, Bharati Vidyapeeth School of Physiotherapy is considered as one of the premier Institutes of Physiotherapy. The Institute has one of the best infrastructures with a state-of-the-art advanced Physiotherapy Centre. The College offers Bachelor of Physiotherapy graduate program of four years of Theoretical and Clinical Training & 6 months of Internship. It is a Non-Governmental Organization managed by Bharati Charitable Trust. It is attached to Bharati Hospital which has 1030 beds, 74 adult ICU beds, 10 PICU beds, 20 NICU beds and 14 Operation Theatres. The College Management is known for providing quality education in their institutes with rich experience in their respective fields. The staff are highly qualified, student friendly and Co-operative. The syllabus is designed so the students gain a rich pre- clinical and clinical exposure in fields of pre and post operative cases, on patient assessment and management. Every department has a demonstration and discussion area where problem solving and critical thinking activities are performed.
The College is designed with advanced equipments and labs. The College has 4 Core Laboratories namely: Electrotherapy, Kinesiotherapy, Exercise Physiology- Fitness Lab and Yoga/ Skills Lab along with 4 specialized applied Physiotherapeutic areas of Neurological Physiotherapy, Community- based Physiotherapy, Cardio-Pulmonary Physiotherapy and Musculoskeletal Physiotherapy. The college provides well established Research centre. The college library is enriched with advanced literatures and has subscribed to many International journals which helps students keep track of the upcoming research in Physiotherapy.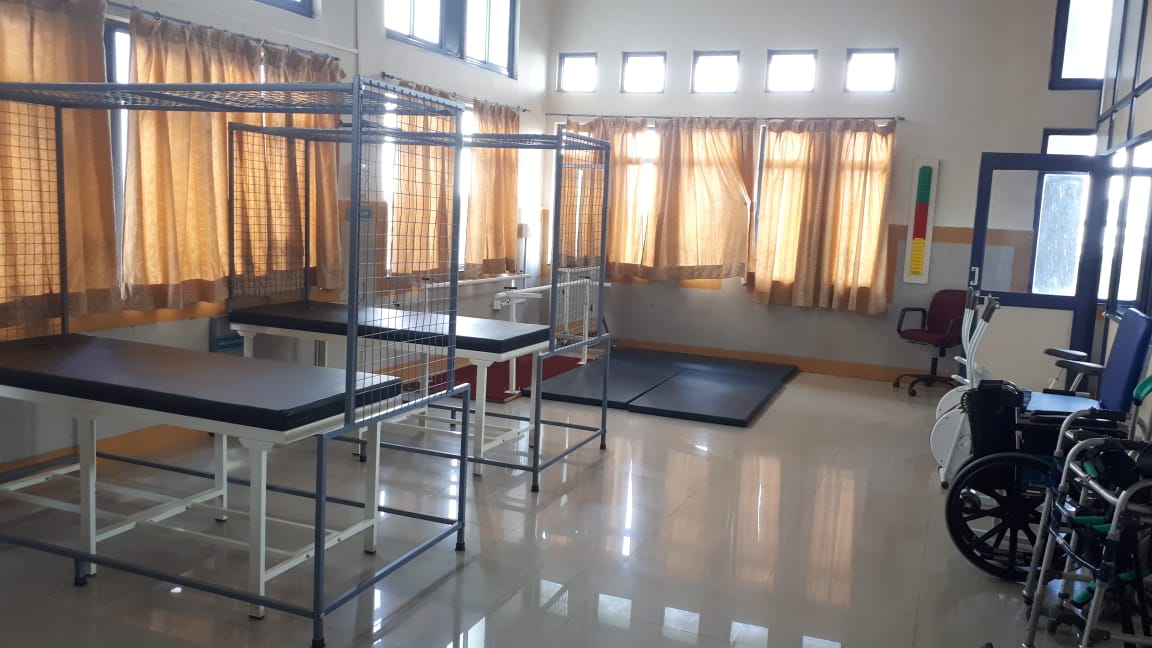 Department of Kinesiotherapy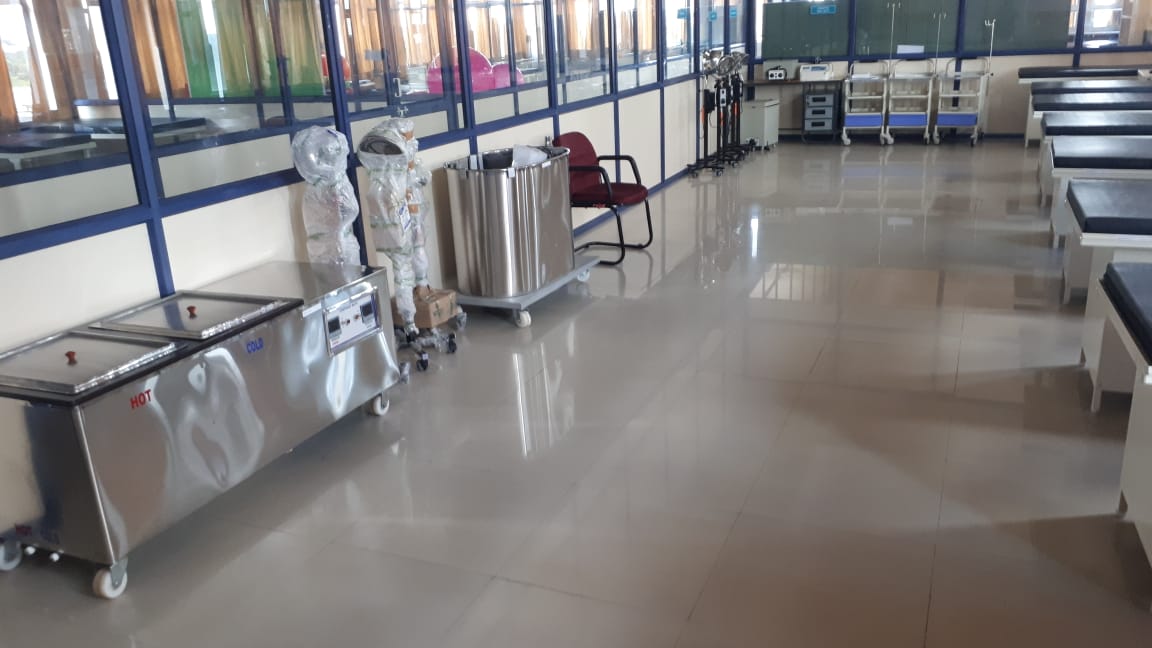 Department of Electrotherapy
Our college provides pre-clinical education wherein students are given practical demonstrations and handling for dissection of human specimen for learning Human Anatomy, there are separate labs for Physiology and Biochemistry for conducting various experiments and practicals. Para-clinical education with thorough understanding of Pharmacology, Pathology, Microbiology, Psychiatry, Psychology.
.
Clinical education wherein history taking, physical examination and clinical reasoning, formulating diagnosis, prognosis and management of various conditions are taught in various In-patient settings of respective wards such as Orthopedic, Surgery, Medicine, Cardio Vascular and Thoracic Surgery, Emergency Medicine, Pediatric, ICU: Renal ICU, Surgical ICU, Pulmonary ICU, Cardiac ICU, Pediatric and Neonatal ICU and in the Physiotherapy OPD. The students are given opportunities to observe various surgeries which helps in enriching their experience and in-turn helps in better management of the condition
There is a dedicated Anatomy Museum too equipped with various joint and spine models, human skeletons, orthopedic implants used in surgical procedures are displayed. Our students get exposure to the teaching of faculty members having expertise in Anatomy, Physiology, Biochemistry, Pharmacology, Pathology, Microbiology & other subjects. A library forms the integral part of any educational institution. It is a most lively place providing a safe, comfortable and friendly environment that enables learning and advancement of knowledge.
Library is situated within the Institute as well as a Central library is available in the campus, with a mission to provide reading material and service of the highest quality.
The library maintains the students to books ratio according to the norms. A good collection of print material is available, which include Books, Magazines, Periodicals and Scientific Journals. New books / journals are acquired regularly and a constant update of databases is done, ensuring the latest and the best resources is made available to the students.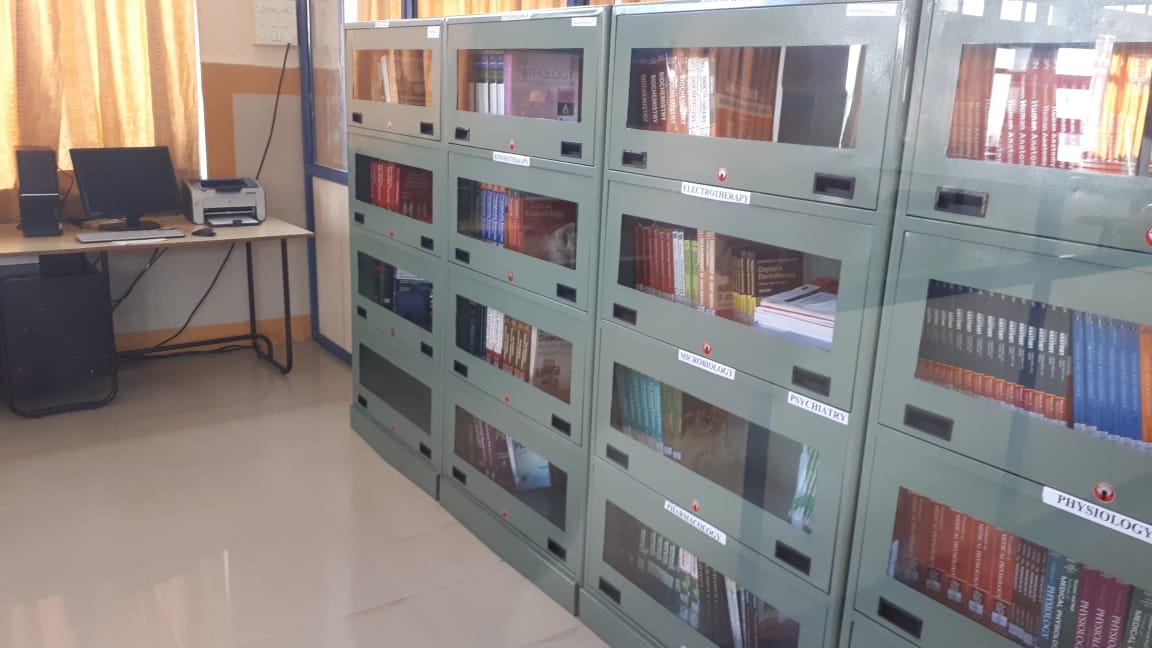 Library
The Campus also provides a Central library which has a unique serene reading ambience with high quality lighting and ventilation with abundance of literature as well as a digital library providing varied information touching all aspects of medical education. The library is equipped with all the necessary textbooks, reference books, National & International journals, e-journals and academic CDs & DVDs.
Medical College, Dental College and Nursing College are among the other academic institutions available in the campus.
Our college campus has separate hostel facilities for boys & girls with 24 hrs. security provided. A separate warden is appointed for each individual hostel. Each room has sufficient space and has attached bath cum toilet. The rooms are fully furnished and can accommodate two students each. Clean, hygienic and quality food is available at subsidized rates in the mess of all the hostels. Canteens / fast food outlets serve snacks and refreshments to the students.
There are separate residential blocks on the campus, providing accommodation to Heads of Institutions, faculty and other supporting staff members. This has been a strategic decision, which has cut the commuting time of the faculty and helped them focus better on teaching and guiding the students.
The Institute strives for holistic and global development of the students through Field visit, Workshop and soft skill training programs etc.
The institute provides support to student through mentorship program, advance syllabus planning and placement cell activities. Students are encouraged to participate in sports, cultural, extramural and NSS activities.
Physiotherapy has evolved as an important component of Modern Health Care. It focuses on restoring movement, helping people maintain and maximize their physical strength, function, and overall well-being by improving their activities of daily living.